Electric Fan MOTOR Filter Covers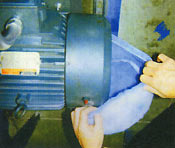 Electric fan motor filter covers were developed to assist our customers in protecting their investment in machinery and equipment while at the same time reducing their maintenance costs.
Electric motors can become clogged with dirt and grime sucked in by the fan. When filtered with our dust cover, electric motors remain cleaner supporting longer motor life while reducing maintenance costs.
Custom made to your Specifications
Please provide us with your measurements. You will need to measure the diameter & depth of your motors fan cover. Then add one inch of depth to allow for the elastic band. Please call us with your dimensions and quantity for a free quote.
---
Extends the life of your motors
Minimize down time
Save labor
Saves the cost of a new motor
High quality polyester filtration
We use our Fiberbond FP 50 polyester
Allowing a high volume of contaminants to be trapped within the compete depth of the filter.